WEATHER~~~ DOPANT!
the white one will fight Terui and Shotaro+Philip
Doctor VS Detective and Police
IN episode 27 W and Accel will get pawned by him.
I predict they cant defeat him at least for 6 eps + or 3 story +
The Magician is the requester, and dopant lol..
Why?
I also don't know.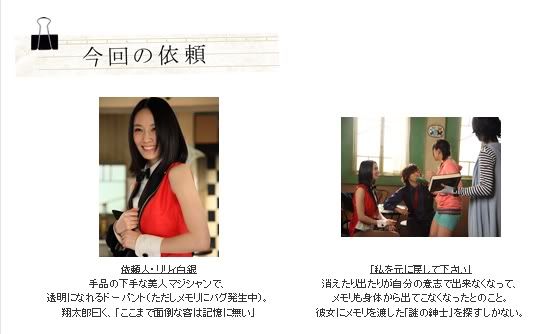 Snail gadget there with fake Gaia memory for the gadget, I think that is their new gadget which act as Binoculars!
Hmm..
SPOILERS
Below are some of my analysis between the fight...(MINE)
Weather dopant can control any weather I think because in episode 26 he use fog.
Electric and frosting is already confirmed.
Rain and Storm I think will be his power too.
Accel will kill him with electric or steam? huh?
Kinda weak against those elements I think.
Steam vs rain...= no steam
Electric huh? He can use Fog to cover himself.
Steam vs the wind or tornado power..the steam will get blown out for sure.
Steam can only be used to vs ice power or frost power
I think to defeat this super dopant ..W is an element that must be considered.
Heat Metal can blow off the ice and tornado power, Luna Trigger can shoot him for sure in the fog.
Cyclone Joker is the best fighter to defeat his rain and wind power.
Fang Joker, no doubt to have a good melee fight, punch with punch this one win for sure.
But all these are just my comments, how bout urs?
We don't know the real thing without watching it right?
Stay Tune for EP 27!
WWWWWWWWWWWWWWWWWWWWWWWWWWWWWWWWWWWWWWWWWWWW
picture source via bt.temox.com/2b